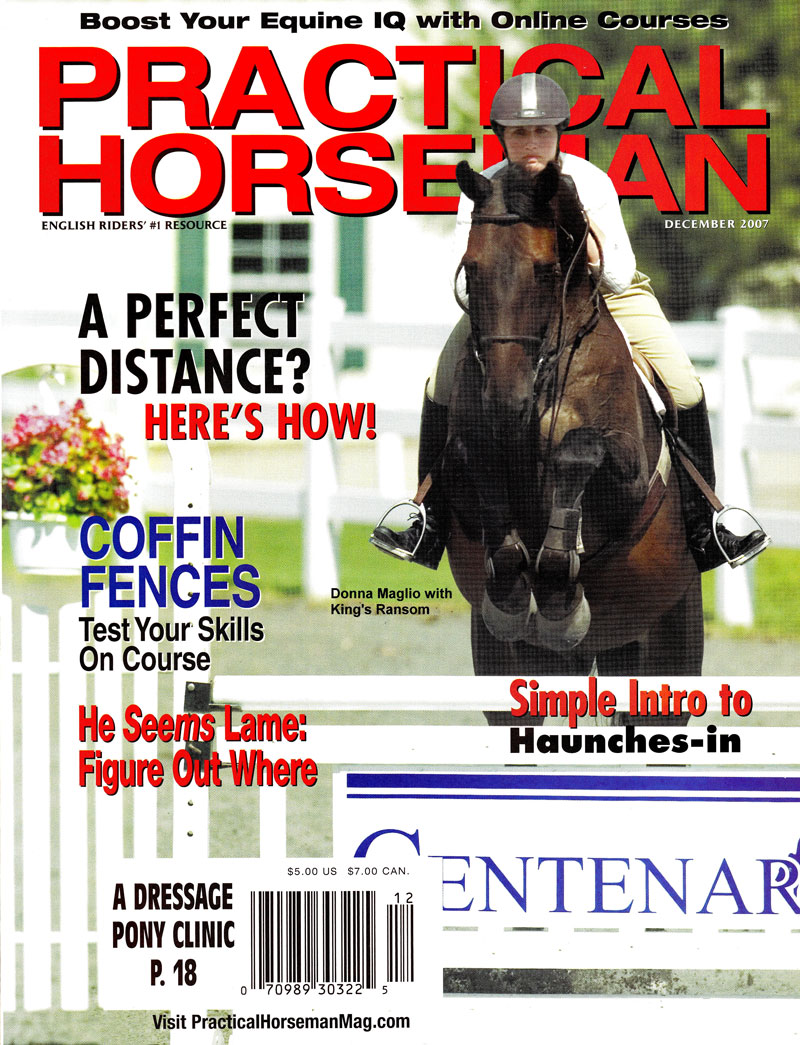 Donna on the cover of Practical Horseman
Whether overcoming a fear or striving to reach the next level of competition, Donna thoroughly enjoys helping riders achieve their goals. She also works with trainers who may feel "stuck" with a client and need some assistance with developing different teaching methods based on the learning styles of their students.
Given her extensive background with riding and training horses over the past 30+ years, Donna feels she can relate to the unique challenges that riders and trainers may face, while offering some practical tools that can be used in the arena to develop more effective partnerships with their mounts.
Equestrian Sport & Performance Consulting
Donna was very fortunate to grow up at Evergreen Acres Training Stables, owned and operated by her father, Tony Maglio, in Long Valley, NJ, where she assisted with the care and training of the horses and riders. She started competing at the age of 4 in various Western show events, including Horsemanship, Pleasure, Trail, Reining and the Western Riding Pattern, in addition to Gymkhana and Team Penning. She then moved into the Dressage arena and even tried some Saddle Seat.
Eventually, Donna entered the Hunter/Jumper world, first in the "big eq" as a junior rider, and then moved into Hunter and Jumper events. In addition to learning the basics from her father, Donna trained with Andrea Wells, "R" USEF Licensed Official for hunters, jumpers and hunter seat equitation, and Emil Spadone of Redfield Farm before relocating to VA in 2009. She has earned local, state and national awards and was featured on the cover of Practical Horseman Magazine in 2007. Donna still competes regularly in H/J shows and, over the past few years, has even added Three-Day Eventing to the mix.
Interested in offering something unique for the riders at your farm? Contact her today to design a custom workshop that is right for you!